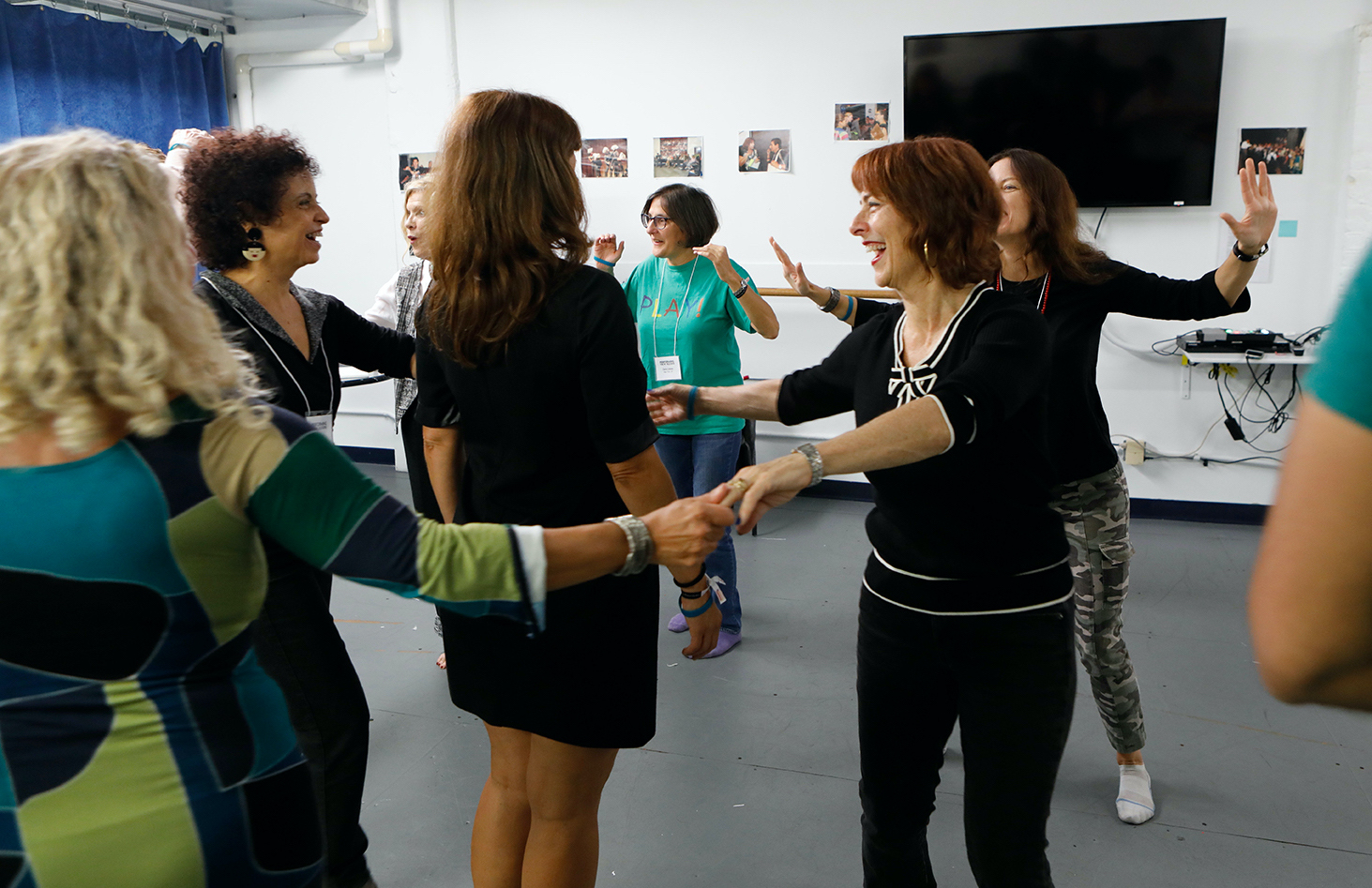 I've got some exciting news that I'm delighted to share. I am stepping down as CEO of Performance of a Lifetime (POAL), after 23 years (!) at the helm, and I've handed over leadership to the incomparable Maureen Kelly, POAL's President and Chief Possibility Officer.
For my newest performance I have decided to re-invest all that Performance of a Lifetime has built, created and discovered, and bring it out to community stages the world over. Alongside the past two decades of introducing play, performance, improv and The Becoming Principle® into the workplace, there are bubble-up success stories of grassroots, non-profit, and community organizations who have likewise adopted performance and play to build their communities. POAL has supported and propelled their efforts in many ways — including by contributing $10 million over this time, and providing pro-bono training, design, and consulting.
A growing movement of performance activism is beginning to percolate in communities worldwide. That's where I'm eager to lend my support. Thousands are employing theater, improvisation, and play as a "call to arms" — creating new practices and approaches to social change — challenging the status quo in fighting poverty, in education, medicine, electoral politics, community organizing, afterschool youth development, climate change, psychotherapy, trauma, dementia and more.
I find their work tremendously inspiring in these challenging times. I firmly believe that The Becoming Principle® belongs in corporate boardrooms — and it also belongs in struggling communities from Newark, New Jersey and Juarez, Mexico to Ikeja, Nigeria.
I'll be focusing on continuing to grow and build this vital social change movement. That includes:
Getting OUT into different global communities; speaking, training and leading workshops. So far, trips are planned with colleagues in China, the UK, Canada, Spain and around the US.
On Feb 7, I led an online session called, "Improvising Our Emotions" for 70 people across China who have become increasingly isolated, lonely and fearful as a result of the Coronavirus. I was invited to do this by my colleague Cheng Zeng in Beijing, who wanted to provide a context for people to improvise and perform together, and in doing so to create connection, community and support.
Organizing and raising dollars for the 2020 Performing the World conference, "Creating a Heart in a Haven-less World," September 30 in New York City, and the 2020 Applied Improv Network conference in Avila, Spain, July 30.
Working on a series of public conversations with some boldface names (see my recent conversation with business trends guru, Dan Pink). And stay tuned for what I expect to be a tour de force encounter with Anthony Veneziale of Freestyle Love Supreme — fresh off his hit Broadway show and a film premiere at Sundance.
Continuing to support the community bridge building program "Operation Conversation: Cops and Kids," of the award winning non-profit All Stars Project, Inc.
Starting to sing jazz professionally again after a long hiatus. Summer 2019 saw me performing at the San Sebastian Jazz Festival in Spain and The Jazz Loft in Stony Brook, LI, and I've been gigging around town since.
Consulting, coaching, and teaching on a limited basis with POAL as well as maintaining a small executive coaching practice.
More to say, much to do, lots of "becoming" — all of which I'm super excited about. I'll be reaching out to invite you to join me in a host of different ways. In the meantime, please be in touch; you can contact me at cathy@cathysalit.com.
And please send your congrats to Maureen Kelly and the amazing Performance of a Lifetime team as they continue to innovate in business circles and beyond!
---
Cathy Salit is a performer and a co-founder of Performance of a Lifetime. Her book, Performance Breakthrough: A Radical Approach to Success at Work (Hachette Books) is on sale everywhere books are sold.
---
Comments are closed.